One of my favorite novels is
The Great Gatsby.
Maybe I was only holding on by a thread towards the end of it, but the text creates so many beautiful images in my head and that's enough to get me hooked.
Ever since I first saw
this photo
in the
Times
way back in January, I have been anxiously awaiting more images to surface of Baz Lurhmann's remake.
The winged eyeliner look - something I am still in the process of mastering.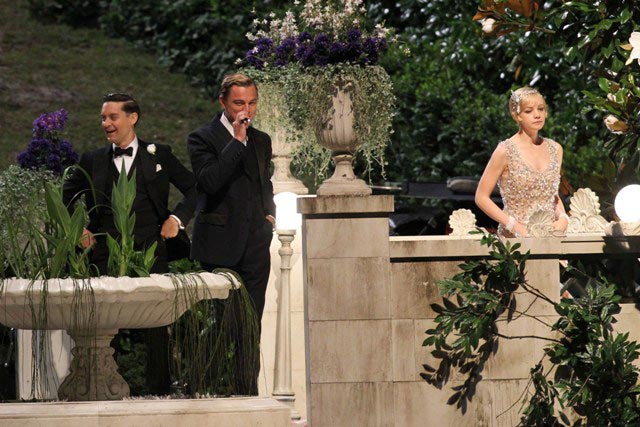 I wish I could see an extreme close up of Carey Mulligan's dress. Even from far away it looks so detailed and beautiful.
This might be my favorite still shot from the movie.
Doesn't the headpiece on the girl in front look daring? I say daring because while it's pretty, I bet it's heavy.
Although previous
Gatsby
films might have inspired fans with their releases, I think this remake will stun audiences and has the potential to be the best out of all
Gatsby
films. The glitz and glamour have been magnified and the actors and actresses brought on are some of the best, in my opinion. The trailer was just released this past week:
The clothing and design scene in the trailer exceeded my expectations and had a bit of an edge to them. The scenery and wardrobe reminded me of this twenties inspired photo shoot done by Vogue a few years back.
These images are so similar to the movie, yet were taken almost five years ago. I guess Mr. Luhrmann had the same idea in mind as Grace Coddington (the fashion editor on this shoot).
I will surely be in "Gatsby Mode" all summer long, satisfying my craving for intricate dresses in subtle colors and trying my best to create delicate hair pieces (that don't weigh down my head), but with that, are you as excited as I am about this movie?